Honor Magic Watch 2 46 mm 14-Days Battery, SpO2, BT Calling, AMOLED Touch Screen
Rs. 11,490.00

Rs. 11,490.00

Save Rs. 3,500
Tax included | FREE SHIPPING | GST Invoice available
1 Year Honor Brand Warranty | Condition-Brand New/Sealed
---
Features-
46mm (1.39-inch) AMOLED Color Full Touch Screen & Resolution 454 x 454: Multiple & Customizable Watch Faces: ALS Ambient Light Monitoring - Automatic Screen Brightness Adjusting. Compatible with Android and iOS

Bluetooth Calls: Call, Answer, Decline calls & Call Waiting, Contacts list, Call Records. Connectivity - Bluetooth v5.1

Stress Test: It Supports The Tracking Of Stress For 24 Hours. It Has Optical Heart Rate Sensor To Track Your Stress And Renders Stress Readings To Let You Better Know Your Health Condition

Battery Life: 455 mAh Battery - Lasts for up to 2 Weeks on a Single Charge

Heart Rate Monitoring: Continuous Heart Rate Monitor (Throughout The Entire Day). Unusual Heart Rate Alarm Alerts

Trusleep Monitoring: Monitor Sleep Time, Identify Indicators -Deep Sleep, Light Sleep, Rapid Eye Movement Etc. Provides Sleep Quality Assessment & Improvement Recommendations

Breathing Exercise: Your Watch Can Tell You How To Breathe Better & Let You Practise To Get Relaxed In Busy Work Conditions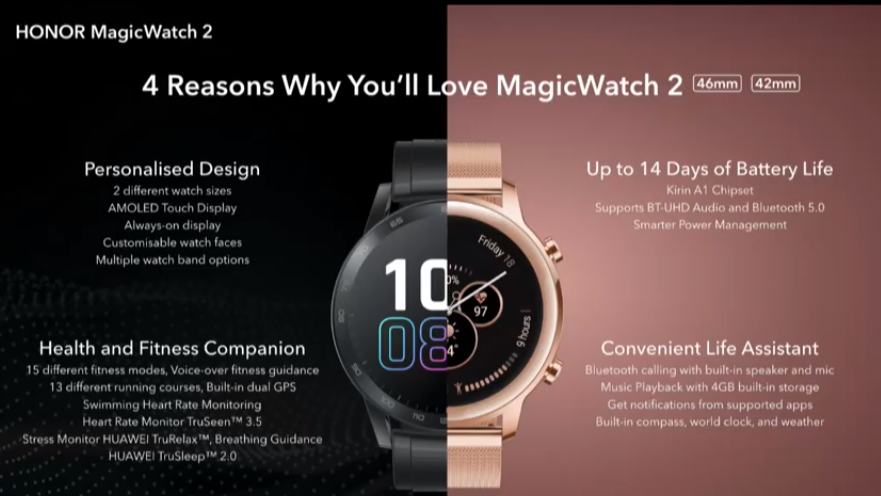 Description
HONOR MagicWatch 2 (46mm) is an ultra-thin sport smartwatch designed and crafted using 316L stainless steel that is both stylish and comfortable. Powered by the world's first dedicated wearable chipset Huawei Kirin A1, HONOR MagicWatch 2 (46mm) strikes a perfect balance between power consumption and performance which can give up to 14 days battery life and optimal usage experience. Along with 50M Water Resistance, HONOR MagicWatch 2 (46mm) integrates smart features such as Bluetooth Calls, Stress Management, Music Playback, Heart Rate Monitoring, Scientific Sleep Monitoring, Multiple Fitness Monitoring, Information Assistant, GPS Tracking and more. HONOR MagicWatch 2 (46mm) lightweight and trendy design coupled with accurate health monitoring and scientific fitness guidance makes it the ideal watch for the discerning consumers (From everyday users and professional sports people to technology aficionados).
Strong meets Smart: 316L Stainless Steel
HONOR MagicWatch 2's enclosure is made of refined 316L stainless steel – a commonly used material in the aerospace industry, offering high strength to weight ratio and less susceptibility to nicks and scratches from everyday activities.
The always-on AMOLED display stays lit so you can glance at the time without the screen taking time to brighten.
SpO2 Monitor
Track Oxygen Saturation Levels in the Bloodstream.
HONOR MagicWatch 2 is the only affordable watch product to have the SpO2 Monitor, which allows users to track oxygen saturation levels in the bloodstream and how your body is adapting during workouts or at high altitudes . It's your healthiness companion that can tell you whether you need to reduce the exercise or seek medical attention.
*SpO2 Monitor is not designed to be a medical device, and is not intended to diagnose, treat, cure or prevent any disease. All data and measurements should be used for personal reference only.
A Watch Face That's Truly Yours: Personalized Watch Faces
Beyond simply telling time, HONOR MagicWatch 2 can display your own personal touch with your photos.
Now you can store multiple photos in it, each time you raise your wrist, a different photo will show up.
Efficient Battery Performance for up to 14 Days:Charging Time Smarts Now
Get more from your performance 24/7. Powered by the all-new HUAWEI Kirin A1 chipset, HONOR MagicWatch 2 processes data faster, using less power for the same results.
Ultimate Workout & Health Guru: 15 Goal-Based Fitness Modes
Stay motivated on the way to crushing your goals. HONOR MagicWatch 2 fitness modes have voiceover guidance for real-time actionable advice. In the evening, take a break and spend a minute relaxing your mind via the breathing app for a better sleep.
Own Every Mile: Running Smarts Now
The built-in running app comes with 13 different running courses with real-time Voice Over guidance. If you're new to running or are experienced, you'll find something suitable to help improve your endurance right away.
Specifications
Manufacturer
Huawei India Private Limited

UPC/EAN Code

6901443361328

Model Number

Minos-B19S

Package Dim.

18.6 x 13.9 x 9.6 cm

Country of Origin
China
Product Weight

40.8 g

Warranty

1 Year Honor Warranty

Other Fitness Features

Tracks: Continuous Heart Rate, Sleep, Calories Burnt, Activity Intensity, Multi Sport Modes

Other Watch Functions

Multiple Watch Faces with ALS Ambient Light, Notification Reminders (Social App Notification, Caller ID, SMS, Email, Weather)

Compatible Devices
i

Phone, Android Smartphones
Unboxing
Unboxing in English
Unboxing in Hindi
Good product & perfect buy
Hi ,
It's a good a purchase from your website . I loved it ❤️❤️❤️. Geniniue product & best shipping .
ORDERED
I have ordered successfully on 26.05.21.lets see how much time it will take to deliver to me..I will review about this watch.
Theres a limit to goodness
I am just loving it, i want to thank grab gear so much because i wanted to buy a huawei/honor watch for my father but it was out of stock from everywhere, i have huawei watch gt2 for myself and i love huawei but now i bought amazefit stratos 3 and let me tell you what shit it was, the worst 15k spent the display was worse than 500 rs ben ten watches, its so stupid that i wanted to cry but i was able to get it returned and searched for another watch that had vo2 max and found this watch magic watch 2 and they delivered it in 1 and a half day instead of 5-7 days, i love you grab gear!, the display is just so awesome and the features are lovely and wholesome, dunno how to thank you enough!!
Nice
Very nice watch
Loved the delivery and grab gear service
Honor magic watch 2 review
Nice watch with a lot of features. Feels premium for the orice point. Pedometers and activiy trackers are well callibrated and have good accuracy. Microphone is good enough for calls when indoor. Downside, is on heavier side to be wearing all day and dusplay could be brighter.
---
Similar products to consider
---